The grand mosque of the city, named after Sultan Idris Shah II that expired on 1986. Located strategicly with the city roading allignment that ensure the mosque have a paralel direction of Mecca with the streets from West to East.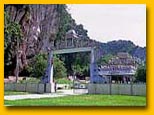 Located a kilometre north of city centre at the place where Kulop Kinta ends his journey in 1600's as he advised by a genie to do so. This Hindu Temple was the place for grand Hindu annual ritual day of Thaipusam for the city's Hindu followers
This castle built in1915 and abandoned by its owner, William Kellie Smith by his sudden death few years after. After left in a spooky condition for decades, the State government innitated to turns it into tourism spot of the state.
Cave Temple Sam Poh Tong, located 5 km south of city centre. The main attraction of chamber temple with link to gardens and havenly created lanscape.