SYNOPSIS
Ipoh Malay or Melayu Ipoh is a segment of unique Malay community in Malaysia. They live as a minority in a Chinese dominated city , Ipoh , the administration centre for Malay State of Perak since 1884. For over 200 years, the early Mendeling from Sumatra reign the territory before the mass influx of Chinese immigrant change the landscape forever.

THE GREAT JOURNEY

Ipoh
was opened to the world by Dato Panglima Kulup Kinta, a Mendeling Malay, a Muslim and originated from
Sumatra
in early 1650s. He navigate
Kinta
River
from
Perak
River
and end up at small waterfalls near Gunung Cheroh that stop him from encroaching upper. Mistically, he met a genie that told him to stop until that point. The place now stands the largest Hindu Temple of Ipoh.
Orang Asli
When he reach the valley, the Kampong Ipoh has already existed and inhabited by orang Hulu, today called Orang Asli. This place then turned into Malay tin mining area, a source that traded at Teluk Mak Intan, the today Teluk Intan, a hundred km river distance away. A quote from a book written by Khoo Salma Nasution stated :
" So peculiarly is Kinta a mining district, that even the Sakais of the hills do a little mining to get some tin and wherewith to buy the choppers and sarongs which the Malays sell to them at an exorbitant price. (1) (Abraham Hale 1870s) "
Kampong Paloh Opened
This Malays later opened Kampong Paluh or 'muddy swampy village', a few yards away from Kampong Ipoh. In early 1800s the settlement grew bigger which formed Kampong Kuala Pari and Kampong Java. At the end of Malay domination, Kampong Manjoi opened, at the same period of British arrival and later turned as occupiers, reach the heavenly tin valley, and brought in Chinese labor for tin mines.
" Malays prefer mountain mines called "lampang". These workings are situated near a stream or torrent which provide the necessary water to wash the earth. It consists of one or several narrow trenches, parallel to the stream and joined to it at both ends so that one can get a certain volume of water. The trench is widened little by little and the earth is simply thrown to the bottom; the current, operating a natural washing process, carries away the light parts. From time to time, the valuable deposits are scooped out and undergo a final washing process on a flat surface. This mechanical process is rather easy, owing to the size of tin grains, more abundant on mountain-sides than in the plains. Hence, this "lampang" method is considerably more productive when miners have the good fortune to find a rich area. In these operations, 5 or 6 Malays enter into a partnership, rarely more. (5) (De la Croix, 1881)"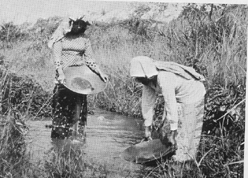 Image from Khoo Salma Nasution archives

CHINESE MASSIVE ENTRANCE

Chinese Begin


Not long before the mass destruction of Ipoh natural landscape in the hands of opportunist miners, the Brits shooed the opposive Sultan Abdullah to Seychelles Island and promotes the designed Sultan Yusuf administration. Perak State later grew prosperous when tin mining became the main income via international trading. The more mining land opened, the more Chinese migrated to enslave themselves in a mining toil.

Chinese Stopped


Until the control of migration excersice introduced in 1931, Ipoh have 70,000 lives, with Chinese dominated 85% of its population. The Malays shockly facing the massive change that turned them into the minority section of settler. The vast increment of population for straight 60 years is believed at 20% a year. Ipoh was the second Chinese harbour in Malay ruling states after Kuala Lumpur. In fact, in 1931, Kuala Lumpur hosting lesser than 60,000 inhabitants.
A Town Was Born
By the changes, Ipoh was administrated by Town Council that even started earlier as a sanitary board that strightly involved in early township planning. Loads of investment hop in even HSBC was opened in 1909 as the first in Malaya near Ipoh Field. The Chinese traders occupied councils buildings with some are still at killing low monthly rentals.

MALAY EMIGRATION

Malay Effluence
When the Chinese had turned Ipoh into a chinatown, more Malays migrate into rural areas nearby namely Sungai Siput, Parit and Kuala Kangsar, simultaneous with the development of British initiated roadways and railroading. The number of Malays in Ipoh dropped drastically and the Chinese dominated shops, mines, cultivation land and caves. Still the remain, some die hard pioneers generation living in Manjoi, Kampong Paloh, Kampong Java, Kuala Pari and Pasir Puteh.
Royalties Rule
For hundreds years, the Java and Sumatra landlord had to deal with the situation that that there is a Sultan administration officers to rate their activities. Each District had its governor appointed by Sultan and thus they are the Kings tongue and hands. By the year 1930s, the appointed Panglima Kinta (Duke of Kinta), Datuk C.M. Yussuf, has the opportunity to initiate a first ever bus service from Ipoh old town to Gopeng. Although the place of strange race has formed, the British liaison with Sultan has helped Malays to remain as the first occupier.

WORLD WAR II AND THE CIRCAS

Japanese Occupation

During this era, tens of architectural buildings with western and middle-eastern design is already built. The Japanese stationed at various grand buildings as St. Michael Institution, the railway station, Anderson School as their operation offices. As we knows, this age of eastererly rule, Chinese turned to be victim of the Japs for their support to China during China-Japan War years before. Chinese villages ragefully set ablazed by the Japanese Army.

The Communist Terrorist

As theres no specific death of Malays in Ipoh, the national figure for person killed during the 14 days communist rules in 1948 is around 3,000. The chaotic 14 days of ruling lit an opportunity for the Communist Party of Malaya turns Malay for revenge. Scholars, village cheifs, imams, penghulus was the target of their brutality. They have been slaughtered, shot at point blank, decapitated and the entire family erased, for the things they ought to do as the rule enforcer. The brutality remains as an unforgotten mark for even the younger generation of Malays who knew the story well. On that fateful period, the British, for their way to retain their Queens territory, gave supports on war against communist that they have armed few years back. From then on, the Malay Armed Forced held responsiblity in fighting the guerillas to the day of abolishment of communist threat by December 1989.
Once a black area, now a pomelo producer
POST INDEPENDENCE

The May 13, 1969

There is alot of stories told by veterans about things happened during that fateful day in Ipoh. One is about a Malay lady who are pregnant, being cut open with the carriage dropped on the floor in Canning Garden market. But thats an aural without fact. The Kuala Lumpur riots believed started in Penang but yet to know what happened here in Ipoh.

Remalaynization

As a response to third PM, Tun Razak campaign in upgrading the urban Malay, the town council moves to bring back Malays into the town as early as 1975. Numerous low cost housing estates built. More and more Malays especially the civil retirees bought houses and lands in Ipoh and this turned to be the mass majority of Ipoh Malay today.


The Tin Turmoil

In early 1980s, the whole world experienced a tin price decrement. As the leading tin producer with commodities above the Bolivia that are the second, Kinta district doomed with slow progress. Ipoh lagged behind since it industrial moves affected with the fact that the town is the most remote from the sea.

IPOH TODAY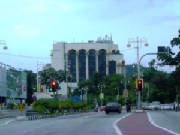 Formerly Douglas Roundabout
However, Ipoh still remains cool and calm without high volume traffic and high rise buildings. The society now is well suit interracial network but still in a major segregation. Few Malays understand Cantonese and there is tens if not hundreds Chinese that understand the fast spoken local Malay dialect. Ipoh remains neat and tidy with highly energized flows of Kinta River turns the drainage dry and thus, the eyesores of seaside towns alike is almost invisible, plus, without cat-size rats.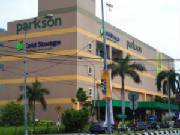 Ipoh Parade
STORY ARE BASED ON RESEARCH THAT NEVER STAND AS THE VOICE OF PLURAL MALAY ORIGINS OF IPOH.



Gog Magog are here now!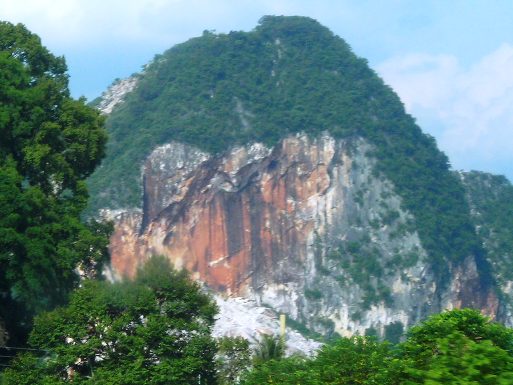 Simpang Pulai
It is prophesized that at the end age, Gog and Magog will exist to create a lot of devastation by its hands. Not spared, the hills. In Simpang Pulai, limestone hills been carved down with explosive maneuver in the pulse of greediness. From some reliable sources, the state government allocates some of million years gorgeously stood hills to the hands of the Gog Magog agent to wipe it off the map. Scars of these hills are everywhere and became a notable eyesore for the passerbies that use the PLUS highway within the hills.
Bullet train for elites?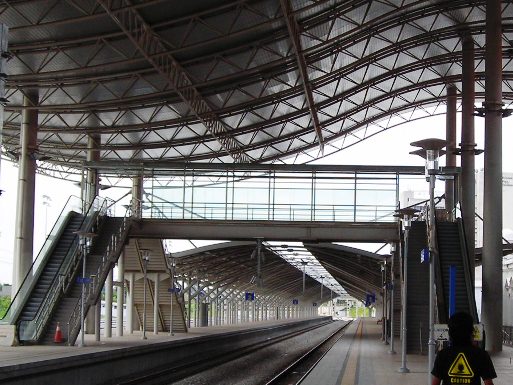 Ipoh Railway Station
The KTMB project for the electrified realigned double track from Rawang to Ipoh is now at the level of almost completed. Both structural work for the track and the buildings are now in a finishing process. This project probably is the costliest project ever done by the Federal Government in term of time and expenses.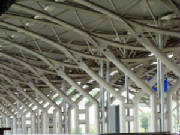 Ipoh Railway Station
The project started in 2000 is now in the 7th year progress. It is believed that the shuttle train service that halves the driving hour will be not as affordable as it was to the lower income groups that much more in needs of public transportation efficiency. Even there is no immediate announcement of the introducing fare, it is believed that it will cost no lower than RM40 for a single journey to KL.

Sunway : No Malay Area!
It is famously known that Sunway City offers a luxurious lifestyle in a modern urban ambience. Sunway City Ipoh rapidly developed since 2002 and know became a host of six digits ringgit of houses. Situated in Tambun parliament constituency which some 62% of the population is Malay, it is hardly to find any Malay that willing to buy houses in Sunway City Ipoh.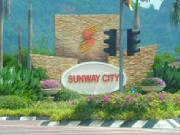 Sunway City
This is not because of the price, but this is a phenomenon that has something to do with the direction of the marketing target. It is believed that this formerly communist terrorist territory long time ago will stand as an exclusive no-Malay zone township that will be surrounded by Malay settlements i.e Batu 5, Batu 6, Taman Perpaduan and Taman Mewah. Early this year, Sunway City became a hotspot for nightclubbers when they opened Rum Jungle disco within The Lost World of Tambun theme park. The menace will be dwarfed by an under-construction 5 star luxurious health spa in caves the will be a potential hottest spot for vice activities in the city.
Ampang-Jelapang Link
The controversial Jelapang toll booths and the scenic Ipoh Selatan tolls will no longer exist near future.
The PLUS project in Tambun
The highway flows will no longer obstructed in Ipoh and this cost the Federal Government some RM260million to build a parallel road next to the highway to cater the needs of Ipohite that used the toll-free highway to reach the other part of the valley since 1984. This under construction road will double fold the distance accessed by Ipohite before when its designed to link Ampang and Jelapang.
Hundred Year Degrade
Tanjong Rambutan is a Malay village that historicly opened by migrated Malay from the Upper Perak in Lenggong and Kuala Kangsar via Sungai Siput and Kanthan. This event dated back to 1750 to 1800 when land was opened for padi farming and tin mining.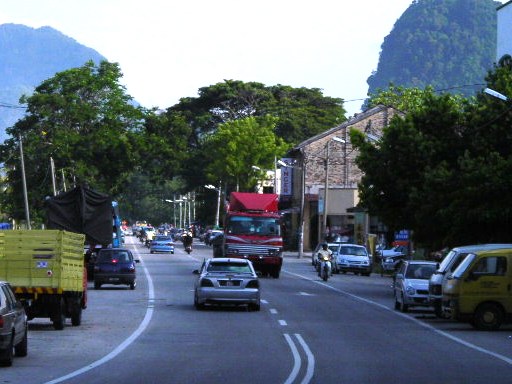 Tanjong Rambutan
In 1908, the British administration decided to build a mental rehabilitation center across the Tanjong Rambutan halt that made for tin transportation. From that on, Tanjong Rambutan was no longer a peaceful countryside but popularly refered as a place for mentally retarded sanctuary. In 2008, it will be the 100 years anniversary for Tanjong Rambutan as a significant name for mad, crazy, moental-illness and associated with tens of thousand kind of jokes.
Sorry state of Kinta River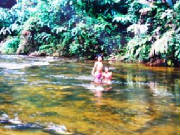 Cool fresh and clear
The undated photo above show us how refreshing Kinta River sometimes ago with a high volume cold water streaming down beneath lush and green tropical forest. It was something that will never spare for the next generation.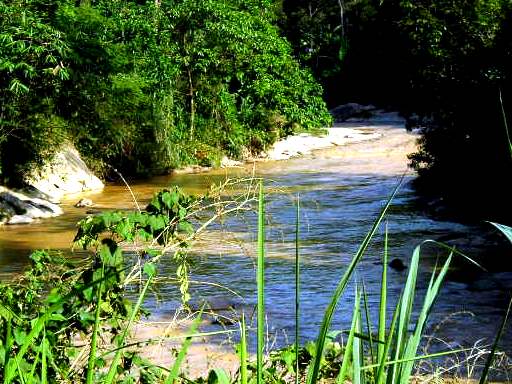 Warm and murky
Today Kinta River, with its murky flows drove off the tourist. Thank you for the Greater Ipoh water supply plan that initiated to ensure Ipohite accessed with sufficient clean treated water supply. The Ulu Kinta Dam that now completed are the main cause of the declining water quality after the Simpang Pulai – Gua Musang road project starts the soiled-the-water fiesta in 1997.



Migrated Out
For reasons that anyone could understand, Ipoh face a serious migration phenomenon with annual population increment is in figure around -0.5% to 0.5%. Each family in Ipoh regardless race, are having at least one of the family members migrated out mainly to the Klang Valley. There is a family of 7 which 6 of them are now living and working in KL. The increment of the population much contributed by the migratory workers that earn money from industrial labor for temporary basis. It is believed that this phenomenon worsened by the accessibility for Ipohite head south to KL.

Somewhere in Gopeng
From a 5 hour driving before 1993 to a merely 2 hours journey, KL is now considered adjacent. Because of a technical and practical reason, less of them bought properties in Ipoh and the low demand of houses turned the city among the lowest in cost of living
Hello Foreign Workers
When there is a lifestyle shift, some job are unpopular by the locals. To ensure the business double-fold, cheap labor are required. That was the main reason of mass recruitment of the foreign worker that now made up 11% of Malaysia population.
Foreign worker everywhere
This phenomenon never spared Ipoh as its target. Today, a Sunday walk around Ipoh may give a feeling like abroad. Gangs of foreign workers flooded the city to met up with fellow countrymen and nationals doing some shopping, noise making and strolling. As the crime rate still at the low index, most Ipohite seems having much more things to pay their attention instead of grousing on foreign workers that now became almost 5% of the city population.



IPOH CITY COUNCIL
Hunting Line

241 3733

Hotline

255 1515

POLICE STATION
Ipoh DPH

242 4222

HOSPITAL
Ipoh GH

253 3333

WEBMASTER
ipohmalay@gmail.com
Today, Ipoh Malay are not recgonized by its origin anymore but from the area they inhabit. Six main corridors where some 186,100 Ipoh Malay became the major race in it is Manjoi, Tambun, Simpang Pulai, Rapat Setia, Chemor, and Seri Kinta.
MALAY POPULATION

Corridors

Population

Manjoi

59,000

Tambun

55,000

Spg. Pulai

20,400

Rapat Setia

15,600

Chemor

13,800

Seri Kinta

12,800

Others

9,500

TOTAL

186,100

Population of Ipoh

610,000

Malay Percentage

30.51
Estimated 2007
Most of Malays in Ipoh are now of retirees from various states of Malaysia and their the next generation . Few of Ipoh Malay are still recgonize themselves as Javanese ( Manjoi, Sri Kinta & Simpang Pulai ) , Baweanese ( Manjoi ) and Rawas ( Simpang Pulai ).
Below are some popular facts of Ipoh Malay :
THE LIFE

M

F

Literacy
95%

90%

BM proficiency
70%

80%

English ability
25%

20%

Smoking Rate
60%

10%

Average Household Income

RM 3200

Popular Food

Roti canai

Popular Drinks

The Tarik

EMPLOYMENT
M

F

Civil Servant
35%

30%

Private Sector
15%

25%

Pensioners
20%

5%

Small Business
20%

15%

Others
10%

25%

RELIGIOUSITY
M

F

Perfect
45%

35%

Moderate
35%

50%

Less
20%

15%

POLITICS
M

F

UMNO
40%

55%

PAS / Keadilan
35%

35%

Discreet
25%

10%

DRIVING MANEUVER
M

F

Car
75%

55%

Motorbike
65%

35%

TRANSPORTATION
M

F

Own Car
30%

15%

Own Motorbike
75%

20%

Public Transport
25%

65%

MEDIA
M

F

Daily Readers
65%

30%

Worldnews Alert
65%

15%

Ever internet
50%

30%

EXPENDITURE
M

F

Malls
35%

65%

Night Markets
40%

70%

Sundries
30%

70%

NET COMMUNITY
M

F

7 - 18 years old
40%

35%

19 - 40 years old
65%

65%

Above 40 years old
40%

30%
Tectonically, Peninsular Malaysia forms part of the Sunda Shield. Its Triassic fold-mountain belt, the spine of the Peninsula, continues from eastern Burma through Thailand, Peninsular Malaysia, the Bingka and Belitung Islands, and eastwards into Indonesian Borneo. All the systems, ranging from the Cambrian to the Quaternary, are represented in Peninsular Malaysia. The Triassic and older strata are essentially marine whereas the post- Triassic rocks are characteristically non-marine. Sedimentation was continuous throughout the Palaeozoic and Mesozoic. Because of the instability of the basin major breaks are apparent within and between the Palaeozoic, Mesozoic, and Cainozoic groups of rocks. Granitoids occupy almost half the peninsula, commonly forming topographic highs, notably in the Main Range. The main episode of granitic emplacement coincides with the culminating late Triassic orogenic event during which all the older strata were folded and deformed.
Malaysian Geology ,
www.mymalaysia.net.my
2005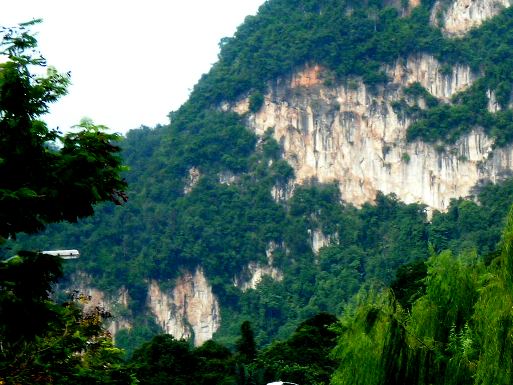 Limestones in Tambun
In Kinta Hills area, marble quartzite, schist and argillite have been intruded by coarse-grained porphyritic biotite granite. At the margin of masses of the coarse-grained porphyritic biotite granite are zone of medium- to fine-grained granite and leucogranite. Veins of quartz occur as fracture fillings. Accompanying the emplacement of the leucogranite and quartz bodies were primary mineralizations of tin, tungsten and iron which are of economic importance in the region. Deep tropical weathering has produced a thick soil cover over most of the area.
A geochemical programme of soil, stream and rock sampling was undertaken to search for eluvial tin deposits in the area. It resulted in the delineation of eluvial concentrations of tin in the soil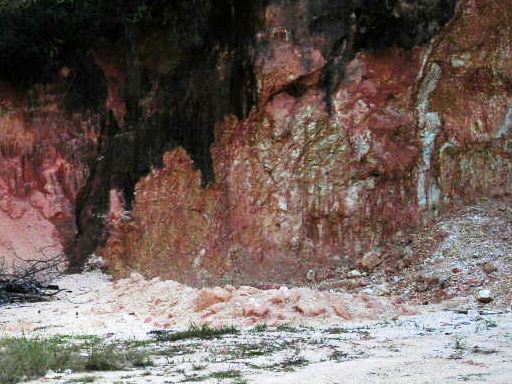 Eroded by human activity

The tin-anomalous zones are found to form a pattern very closely associated with directions of major fractures which are most probably the conduits of the mineralizing solutions. The tin concentration are also most prominent in soils over vein quartz and leucogranite which are much younger than the coarse-grained granite. Tin values in soils over the coarse-grained granite are low. Therefore it appears that tin mineralization is not disseminated in the coarse-grained granite but is mainly associated with vein quartz and leucogranite
Unaltered biotite granites contain trace amounts of tin and they are clearly insignificant contributors to the rich placer deposits of the Kinta Valley, which must be largely derived from the visibly altered and mineralized rocks.
Choy Kam Wai - Geology Society Malaysia, Bulletin 9, November, 1977; pp.233 - 252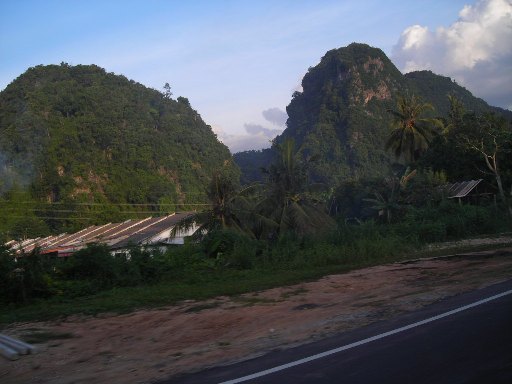 Formation in Tambun
The Titiwangsa Range experience more impact from the tectonic activity at Sunda Trench especially at the northern part in west Sumatra. This activity continuously happens and creates the Peninsula Malay landscape. But a massive move from excessive submission are something that should not be ruled out. Impact from asteroids that hits the Hindi Ocean seabed could also be a single day disastrous earth making.
The Webmaster
About 45km driving distance to the North East of Ipoh, Sungai Korbu is the best place to get the rain forest tranquility refreshment from clean crystal clear river that flowing down from Titiwangsa Range via Sungai Korbu Water Catchment Area.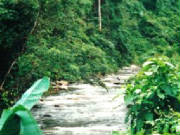 The stram located in Jalong, was accessible with premixed lane and crossing a unique Orang Asli settlement. The river was so cold and the scenic view of the forest is too much to expressed by words. Visit Sungai Korbu today and feel the past that preserved as our natural heritage.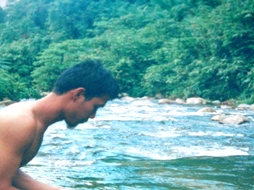 Note: Please show some respect to the locals in the Orang Asli village as they do not welcomes outsiders that never know how to behave in their territory.